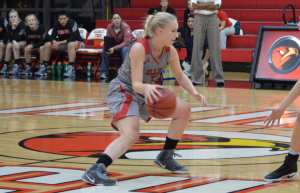 The Illinois Tech Scarlet Hawks traveled to Lincoln Christian on December 10 for a weekend contest. Illinois Tech started the game off strong, but a late second half charge led the Red Lions past the Scarlet Hawks 59-35.
How it Happened
Stifling defense allowed the Scarlet Hawks to jump out to a 9-8 lead after one. Illinois Tech held the Red Lions to just 15.8% shooting over the first 10 minutes.
April Wanagas's five points and another great defensive effort in the second quarter allowed the Scarlet Hawks to build the lead. Illinois Tech led 19-14 at halftime.
Lincoln Christian found another gear in quarter number three, pouring in 27 points.
LC's dominance continued in the fourth, outscoring the Scarlet Hawks 18-12 despite five more points from Wanagas.
Scarlet Hawk Standouts
Wanagas led the Scarlet Hawks with 12 points.
Kaylee Wicka added 11 points, nine rebounds, two steals, and a blocked shot.
Erin Efimoff contributed seven points and four rebounds.
Stats to Know
Both teams hit three shots from beyond the arc (Illinois Tech three-of-10, LC three-of-21).
Lincoln Christian narrowly won the turnover battle (19-17).
Up Next
The Scarlet Hawks will travel to Milwaukee School of Engineering on Wednesday, December 14 for a 7 p.m. contest.