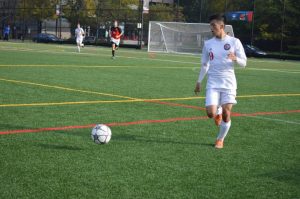 The Illinois Tech Men's Soccer team hosted North Central College on October 15. Illinois Tech fell 4-1 to the Cardinals.
How it Happened
Alexis Flores took over early for the Cardinals, scoring twice in the game's first 15 minutes to build an early advantage for NCC.
In the 23rd minute, NCC's John Borzick scored his first goal of the match to give the Cardinals a 3-0 lead, which held into the intermission.
In the 76th minute, a pair of freshmen combined for Illinois Tech's lone goal of the match. Michael Podsiadly scored on a cross from Zach Whritenour. It was the first collegiate goal and assist for each player.
Just over two minutes after the Podsiadly goal, Borzick scored again for the Cardinals to bring the match to its final score of 4-1.
Scarlet Hawk Standouts
Podsiadly scored on one of his two shots.
Whritenour added the assist.
Noah Griffith led the Scarlet Hawks with four shots and two shots on goal.
Stats to Know
NCC outshot the Hawks 20-10 overall and 10-3 on net.
Illinois Tech committed 12 fouls compared to 11 for NCC.
The Cardinals won the corner kick tally 8-4.