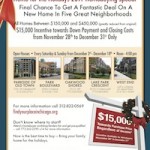 Chicago's Partnership for New Communities Find Your Place in Chicago campaign is extending their offer of a $15,000 incentive to anyone who purchases one of the 60 remaining townhomes and condominiums at five new developments in Chicago through December 31, 2011. During that time anyone who purchases a home in one of the five developments will receive the incentive that can be used for down payment and closing costs. This incentive is separate from IIT's internal Employer Assisted Housing (EAH) program, which provides full-time IIT faculty and staff who have completed one full year of satisfactory service the opportunity to receive forgivable housing loans provided they own the home for a minimum of five years.
All Find Your Place in Chicago homes are located in some of Chicago's most desirable communities—including Old Town, Bronzeville and North Kenwood—and are being offered at a fraction of their original selling price. The available homes are priced between $150,000 and $450,000 and are located near good schools, parks and public transportation. 'Home for the Holidays' will begin with open houses every Saturday and Sunday, 12 – 4 pm at participating developments:
Lake Park Crescent – 4012 S. Oakenwald Ave; 773.268.0400
Oakwood Shores – 723 E. 38th Street; 773.538.0001
Park Boulevard – 3560 S. Federal; 312.328.1100
Parkside of Old Town – 1152-2 N. Cleveland Ave; 312.545.4753
West End – Call to schedule an appointment; 312.421.6060
View the flyer or visit the Find Your Place in Chicago website for more info.