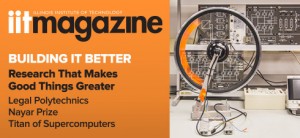 IIT Magazine's annual research issue features stories about members of the Illinois Tech community who have taken a good thing—and made it even better. Check out the cover story about how an electric power-assist wheelchair was improved upon thanks to user feedback. And learn more about the benefactor behind the Nayar Prize—a gift that truly keeps on giving—and the three teams selected as finalists.
Check out two new Video Extras on Cleversafe founder Chris Gladwin and business leader Manu Vora (M.S. CHE '70, Ph.D. '75).
You can find IIT Magazine on the web at iit.edu/magazine.