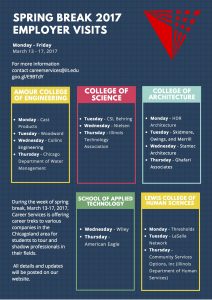 During the week of spring break (Monday, March 13 through Friday, March 17) Career Services is offering career treks to various companies in the Chicago area for students to tour and shadow professionals in their fields. Participants will visit employers specific to each college; the company schedules are listed below.
This is a great opportunity to see firsthand what a typical workday like and learn more about an organization in your field, not to mention a great chance to ask questions and network.
Register below by college. Career Coaches will follow up with more detailed information, but each employer visit will take place between 7 a.m. and 5 p.m. The dress code for each trip is business attire.
Spring Break Company Visits 
Specific times will be shared via email. All details and updates will be posted on the Career Services website.
Armour College of Engineering
March 13 – Cast Products
Tuesday, March 14 – Woodward
Wednesday, March 15 – Collins Engineering
Thursday, March 16 – Chicago Department of Water Management
RSVP for Armour College of Engineering Career Treks
College of Science
March 14 – CSL Behring
March 15 – Nielsen
March 16 – Illinois Technology Association
RSVP for College of Science Career Treks
College of Architecture
March 13- HDR Architecture
March 14 – Skidmore, Owings, and Merrill
March 15 – Stantec Architecture
March 16 – Ghafari Associates
RSVP for College of Architecture Career Treks
School of Applied Technology
March 15- Wiley
March 16- American Eagle
RSVP for School of Applied Technology Career Treks
Lewis College of Human Sciences
March 13 – Thresholds
March 14 – LaSalle Network
March 16 – Community Services Options, Inc (Illinois Department of Human Services)
RSVP for College of Human Science Career Treks
Follow Career Services on Facebook and keep an eye out for future emails regarding 2017 Spring Break Employer Visits and other programming throughout the semester.
If you have any questions, contact careerservices@iit.edu.