Learn the skills to land a job in our Spring Career Crash Course on Wednesday, June 1, 2016 from noon-6 p.m. in The McCormick Tribune Campus Center (MTCC) Ballroom. At this event, you will practice and get feedback on strategies for a successful job search. This session is targeted for spring 2016 graduates but is open to all interested students and alumni.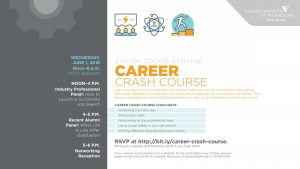 What did students and alumni say about last year's event?
"extremely helpful"
"interactive and engaging"
"well-organized"
"informative" 
"I learned a lot about finding a job"
Read more and RSVP here.
Bring your resume and business cards if you have them.
Career Crash Course Highlights:
Perfecting the interview
Selling your skills
Networking at the professional level
Using social media in your job search
Writing effective resumes and cover letters
If you need an accommodation for a disability to fully participate in any of these sessions, please contact the Center for Disability Resources at disabilities@iit.edu or 312.567.5744.