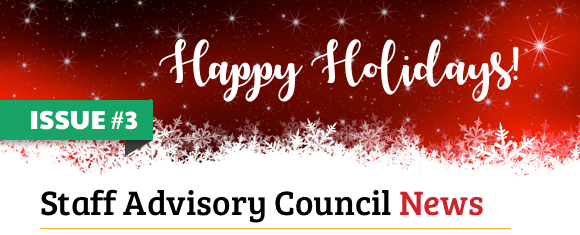 Greetings from the Illinois Tech Staff Advisory Council. 
The third issue of the Illinois Tech Staff Advisory Council news update is now ready for viewing by university staff. In this issue we have information including:
Resolutions to Your Submissions
Unanswered "Ask A Question" Answers
Upcoming Council Elections
All university staff will receive an email from the council containing links to the news update, available as both a Google doc and downloadable PDF. If you misplaced the email you can also access both files anytime by visiting the council's web site in the myIIT portal under the Work tab, click on Minutes and Calendar. If you did not receive the email please let the council know by contacting us at staffcouncil@iit.edu.
Archived copies of this and past news updates can also be found on the council's web site, click on the Minutes and Calendar tab located on our home page.
Happy Holidays!
Illinois Tech Staff Advisory Council