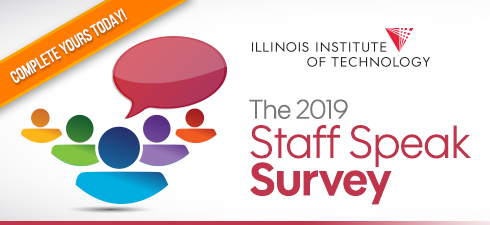 Complete your Staff Speak Survey today! The survey is live now through Friday, February 8 at 5 p.m.
Illinois Tech staff members should have received an email from the Center for Research and Service. The email contains an individualized link for each staff member that can only be used once to take the online survey, so the link and email should not be shared with others. Take yours today!
Watch the recorded, live-streamed session hosted on January 23.
Questions? Contact the Staff Advisory Council (staffcouncil@iit.edu) or Jordan McDonald, project lead consultant and survey administrator at the Center for Research and Service (312.567.6473 or jmcdona7@iit.edu). More information is on the Staff Speak Survey webpage, accessible through the portal.