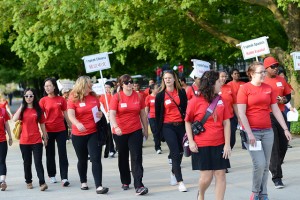 Staff volunteers (sorry, no students at this time) are needed for some of the 2014-2015 Academic Unit Ceremonies. These are held on Main Campus on Saturday, May 16, immediately following the Main Ceremony.
We currently have enough volunteers for the Main Ceremony. *Note that if you are already signed up to volunteer for the Main Ceremony, you cannot assist at an Academic Unit as well.
A few of the items volunteers may be asked to assist with are: serving as greeters, helping with the student procession, setup/takedown of the event, taking tickets, and handing out programs.
The below areas are in need of help; note the times and locations for each ceremony:
Armour College of Engineering
The McCormick Tribune Campus Center (MTCC), Glancy Baseball Field, and Gunsaulus Field
7 a.m.–3 p.m.
School of Applied Technology
Keating Hall
10 a.m.–3 p.m.
Computer Science, College of Science
Hyatt-McCormick Place
10:30 a.m.–3 p.m.
Institute of Design
Wishnick Hall Auditorium
10 a.m.–3 p.m.
If you would like to volunteer for one of these units, click here.
Staff volunteers will be provided with a lunch on the day of the ceremony. They will also receive one paid day off for volunteering their time to IIT. The day off must be taken by Wednesday, July 1, 2015. Supervisory approval for the day is required and the day cannot be taken as a sick day. If the free day is not taken by July 1, 2015, it will be forfeited. Attendance will be taken.