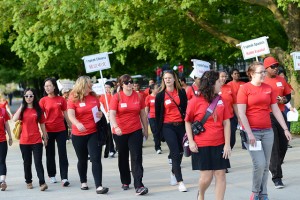 Staff volunteers are needed for the 2014-2015 Main Commencement Ceremony, which will be held on Main Campus on Saturday, May 16 and the Ph.D. Hooding ceremony will be on Friday, May 15, 2015.
Staff volunteers are an essential component of commencement, providing a truly special experience to graduating students and their families. Volunteers will need to be available from 7 a.m. until approximately noon on May 16 and will be asked to attend an informational meeting in early May. Volunteers will serve as greeters, help in the student line up area and on the baseball field. If you want to volunteer for the Ph.D. Hooding Ceremony the time frame and duties will be assigned closer to the event date.
If you will be volunteering your time to help at an Academic Unit Ceremony please work with the academic planners directly (see list below). DO NOT fill out the below link if you are only volunteering for an academic event. This link is ONLY for staff volunteers helping at the Main Ceremony.
If you would like to volunteer for the Main Commencement Ceremony, please sign up here.
Staff volunteers will receive one paid day off for volunteering their time to IIT. The day off must be taken by Wednesday, July 1, 2015. Supervisory approval for the day is required and the day cannot be taken as a sick day. If the free day is not taken by July 1, 2015, it will be forfeited. Attendance will be taken. Volunteers will receive a light breakfast, lunch, and a volunteer T-shirt.
For more updates about the commencement ceremony please visit the commencement website.
Academic Unit Planners:
Armour College of Engineering
Chrissy Jacobs
cjacobs3@iit.edu
College of Architecture
Annie Evans
aevans3@iit.edu
College of Science – Applied Math and Math and Science Education
Gladys Collins
collinsg@iit.edu
Ethel Lewis
lewis@iit.edu
Myrna Walker
mwalke13@iit.edu
College of Science – Computer Science
Ann McBroom
mcbroom@iit.edu
College of Science – Biology/Chemistry/Physical Sciences
Todd Kersh
kersh@iit.edu
Gwynne Fox
gfox1@iit.edu
Institute of Design
Rachel Dean
rdean@id.iit.edu
Intellectual Property Markets and Management
Rosamaria Mustari
rmustari@kentlaw.iit.edu
Lewis College of Human Sciences – Humanities and Social Sciences
Linsey Maughan
maughan@iit.edu
Gwen Murphy
murphy4@iit.edu
Lewis College of Human Sciences – Psychology
Jackie McGhee
jmcghee@iit.edu
School of Applied Technology
Madeleine England
mengland@iit.edu
Stuart School of Business
Tiffany Johnson
tjohns22@iit.edu