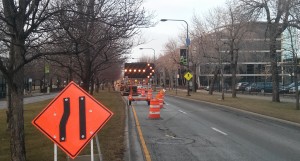 ComEd is in the process of running a new transmission line from south of Main Campus to Chicago's Loop. This new line is being installed in the west lane of northbound traffic on State Street.
The current stage of the project, occupying a traffic lane and the median just north of 31st and State streets, is expected to reach completion in approximately two weeks.
A second vault will be installed at 34th and State Streets with work beginning Thursday, January 24.   The second vault will be installed in both the northbound traffic lane and in the median.  Northbound traffic will be reduced to one lane at 34th and State Streets.  The estimated time of completion for this vault is six weeks.
All work along State Street on the IIT campus is scheduled to be completed by the end of March. Upon completion of the trenching work, State Street will be fully restored by ComEd.
Please contact Kevin Gallagher, director of facilities maintenance management, at gallagher@iit.edu with questions.