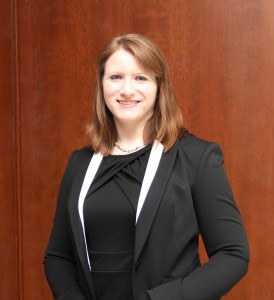 Stephanie J. Ridella, a third-year student at IIT Chicago-Kent College of Law, has won the National Law Review Winter 2014 student writing contest for her paper: "The Madwoman in the Attic: Mental Illness and the Americans with Disabilities Act Amendments Act of 2008."
Her winning paper discusses the limitations of the 1990 Americans with Disabilities Act (ADA) with regard to mental illness and employment discrimination, and how the 2008 amendments to the law might correct some of those limitations. The paper also examines how stigmatization of mental illness in the United States may further limit the law because it often prevents victims of discrimination from obtaining relief under the ADA. The paper has been posted to the National Law Review.
Ridella is a May 2014 candidate for a J.D. with certificates in labor and employment law and public interest law. She is a student editor of the Illinois Public Employee Relations Report. Ridella earned her undergraduate degree in history from Oakland University, where she also earned a paralegal certificate. She received a master's degree in history from Loyola University Chicago.