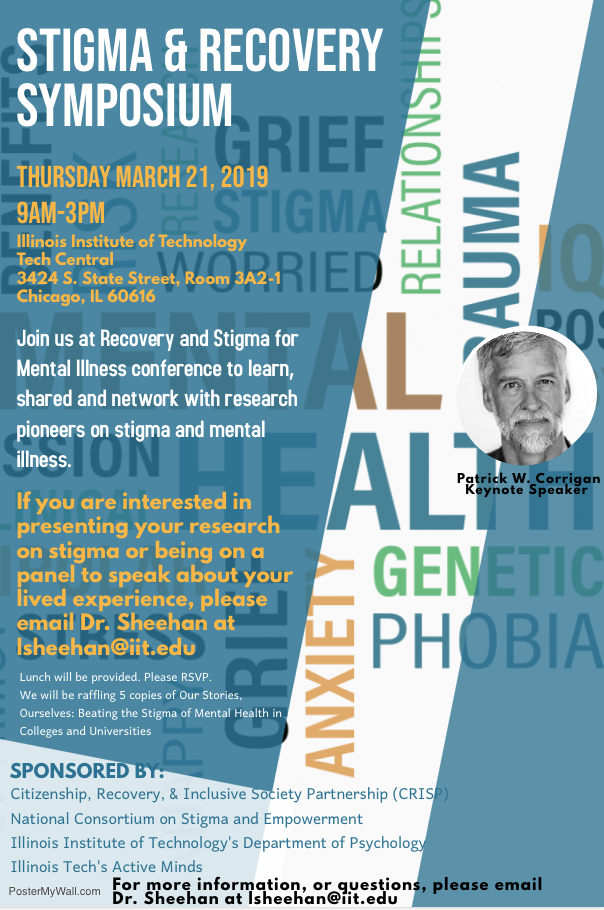 As we work together on a mission to erase stigma around mental illness, it is important to continue to strive to share community resources, research findings, and support in promoting mental health well-being. The Citizenship, Recovery, Inclusive Society Partnership (CRISP); the National Consortium on Stigma and Empowerment; and Illinois Tech's chapter of Active Minds have partnered to sponsor the Stigma & Recovery Symposium at Illinois Tech.
Tech Central
3424 S. State Street, Room 3A2-1
Chicago, IL 60616
Registration: FREE, but you must RSVP
Presentation: You will be given 15–20 minutes to present your research in the form of a PowerPoint presentation
Panel: We will feature a Lived Experience Panel, where attendees are encouraged to share about their experiences and story of living with mental illness. Each speaker will be given 10–15 minutes to share.
If you are interested in being on the panel, or presenting your research, please email Lindsay Sheehan at lsheehan@iit.edu.