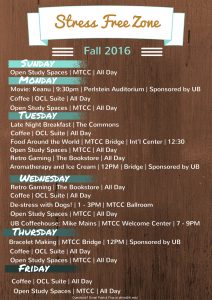 Join the Office of Campus Life (OCL) for its Stress Free Zone. Check out the events and locations below.
Coffee available Monday, November 28 through Friday, December 2 in the OCL suite in The McCormick Tribune Campus Center (MTCC).
Study rooms open in The MTCC during all building hours.
Tuesday, November 29 from 12:30–2 p.m.: Food around the World, sponsored by the International Center
Wednesday, November 30 from 1–3 p.m.: Dogs visiting from the Anti-Cruelty Society
Union Board-sponsored events:
Monday, December 5 at 9:30 p.m. in Perlstein Hall: Movie Night with Union Board featuring the film Keanu
Tuesday, December 6 at noon on The MTCC Bridge: Aromatherapy and Ice Cream with Union Board
Wednesday, December 7 from 7–9 p.m. in The MTCC Welcome Center: Coffeehouse featuring Mike Mains
Thursday, December 8 at noon on The MTCC Bridge: Bracelet Making with Union Board
Bookstore sponsored events:
December 6-7: Retro Gaming
View a flyer here.