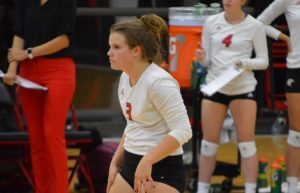 The Illinois Tech Women's Volleyball team made the short trip to Moody Bible Institute on October 24 to oppose the Archers for the second time this season. The Scarlet Hawks downed the hosts in straight sets.
Scores
Illinois Tech 3, Moody 0 (25-19, 25-15, 25-13)
How it Happened
The teams exchanged leads for most of the first set until Sara Hassell sparked a rally to break a 16-16 tie with a kill. It started an 8-1 run, which featured two Taylor Burton kills. Burton closed the set out with another kill for Illinois Tech's 25th point.
There were a lot of similarities between the first and second set. Both teams traded advantages to start, and Hassell once again started a big run (this time 9-1) to put Illinois Tech ahead. The Scarlet Hawks built a 17-10 advantage and Burton and Hassell scored the set's final two points with kills.
In set three, the Hawks rattled off eight straight points after Moody scored once to start. Illinois Tech cruised to a match victory, never in danger of losing the big lead.
Scarlet Hawk Standouts
Stats to Know
Illinois Tech outhit the Archers .333% to .041%.
Illinois Tech recorded 55 digs compared to just 37 for Moody.
Up Next
The Scarlet Hawks will travel to Bluffton, Ohio on Saturday, October 28 to oppose Earlham (3 p.m.) and Bluffton (5 p.m.).