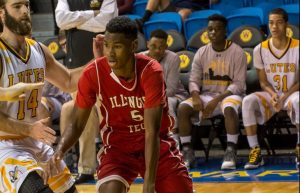 The Illinois Tech Men's Basketball team traveled to nearby Aurora University on January 18 for an early evening tip-off. A great second half led Illinois Tech past the Spartans 87-71.
How it Happened
It was a fast-paced start to the game where no team could find a cushion. With just over 10 minutes left to play in the first half, the Spartans hit threes on consecutive possession for some breathing room with a 24-18 lead. 
Malik Howze kept the Hawks offense afloat in the first half, netting 18 points. Howze, Anthony Mosley Jr., and a three-pointer by Jake Bruns led a comeback to vault Illinois Tech ahead. A reverse lay-up from Mosley Jr. with one second left in the half put the Hawks ahead 43-39 at intermission.
Illinois Tech came out of the gates strong in the second half, scoring 11 points over the first 4:40 of play and forcing the Spartans to call an early timeout. Parker Joncus hit three three-point baskets over the first 10 minutes of the half.
Aurora drew back to within four at 64-60, prompting an Illinois Tech timeout with 9:56 to play. Teams exchanged baskets over the next four and a half minutes before AU took a timeout of its own with 5:14 to go. Illinois Tech extended the lead back up to six to force another Spartan timeout with 3:49 left.
The timeouts couldn't slow Illinois Tech, as the Scarlet Hawks opened the lead back up to 10 with 2:30 to play. Mosley Jr. hit a three to put the Hawks up 84-71 with 1:20 to play, which was followed by blocks from Samuel Rarick and Max Hisatake on ensuing possessions. Mosley Jr. closed things out with another three as Illinois Tech won 87-71.
Scarlet Hawk Standouts
Mosley Jr. scored 19 points in the second half and finished with 26 points, seven assists, and five rebounds.
Howze finished the game with 21 points and seven rebounds.
Joncus was four-of-seven on three point field goals and finished with 12 points.
Stats to Know
The Scarlet Hawks outscored the Spartans 44-32 in the second half.
Illinois Tech shot 51.6% from the floor compared to AU's 41.9%.
The Scarlet Hawks dominated on the glass, holding a +12 margin (42-30).
Up Next
The Scarlet Hawks will oppose a ranked team for the first time since becoming NCAA Division III provisional members on Saturday, January 21. Illinois Tech will host North Park University (ranked ninth in the nation in the latest d3hoops.com poll) at 3 p.m. in the Keating Sports Center. Live audio, video, and statistics will be provided. The live webcast will be powered by Illinois Media School.