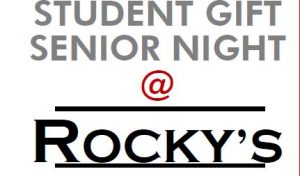 Join the Student Gift Committee for Senior Night at Rocky's (234 W 31st St, Chicago) on Thursday, April 6 from 8 p.m.–midnight.
Each academic year, approximately 20–25 students are forced to withdraw from the university due to unforeseen financial hardship. Come celebrate our graduating students with free food and the first drink on us. All proceeds will go to the Hawks 4 Hawks Hardship Fund to help reduce the number of students who need to withdraw each year. All donors of $10+ will receive a free drink ticket and a chance to win our raffle.
Come and celebrate with us, you will have a great time and benefit a great cause while doing so.
Donate today for your ticket into Rocky's.