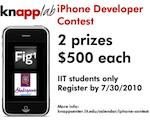 iPhone Developer contest, sponsored by Fig1, Inc. and their client, Shakespeare Squared, LLC. This contest is open to current IIT students only. Two winners will each be awarded a $500 prize, and will be listed as developers in the Apple iTunes App store.
Contest Format
• Students will be able to pick one of two apps to build.
• Students will have three weeks to build the app and submit it.
• Fig1 and IIT faculty will judge the apps. The winning apps will receive a $500 prize (one prize for each of two winning apps).
• Students can compete alone or work in teams (and split the prize).
Dates/Times
• The contest will take place from 9 am on Monday, August 2 through 6 pm on Monday, August 23.
• Winners will be announced by September 8.
• Winners will receive their $500 award at an IIT Knapp Entrepreneurship Center fall event (date TBD).
Materials / Information Provided
• PowerPoint showing the screen details and functionality required. Some suggested data structures will also be provided.
• Images for the app background and in app images, icons. Content needed for the app.
• Contact info for questions and to submit the app.
• Server space, if needed.
• UDID of judges so that the final apps can be loaded and tested.
The Knapp Center invites you to take our app ideas and make them even better. Have fun! Be creative!