The Student Employment Office would like to thank all students, faculty, and staff who participated in this year's National Student Employment Week. Fifty-one student employees were nominated (see the complete list of student nominees here) and 133 supervisor nominations were submitted (see the complete list of supervisor nominees here). Beyond the number of nominations submitted, the quality of the nominations speaks to the positive synergies between student employees and their supervisors. Thank you to everyone who took the time to highlight the ways in which you appreciate your student employees and supervisors.
See photos of events throughout the week on the Student Employment Facebook page.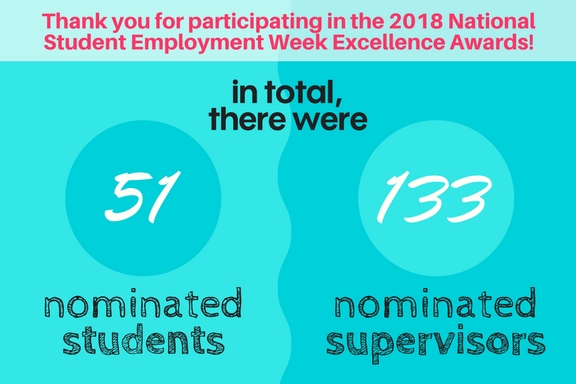 Nomination Winners
For student nominations, we asked supervisors to nominate student employees you feel warrant particular recognition for their performance on the job. (For example — their leadership, impact, initiative, professionalism, etc.) How do they go above and beyond? How do they support, teach, or add value to your office/department?
For supervisor nominations: We asked, "How does your supervisor go above and beyond? How do they support, mentor, and encourage you?"
Distinguished Student Employees
Patrick Wright, OTS
Nominated by Sean Knight
Excerpt: "Patrick has been an exemplary student worker at the OTS Support Desk. At the start of my tenure, 1.5 years ago, he was already a team lead and proved to be a valuable leader for the team. Come to find out, he is a phenomenal coder as well. Not only has Patrick provided excellent customer service to the Illinois Tech community and mentored his fellow student workers, but he has designed and/or re-coded many of the systems student workers at the Support Desk rely on for their day-to-day job functions. Patrick always has a great attitude and is more than happy to help out his team or our customers. He will be missed when he graduates this spring and I am sure wherever his path takes him next that he will put in the same effort and go above and beyond as he has done here with OTS."
David Kotaev, assistant mentor, Institute for Positive Living
Nominated by Chimere Bias
Excerpt: " David started at the Institute for Positive Living as a tutor to children enrolled in our after school program. He always arrived on time and ready to work. From the start, he was engaged with the children, very patient and very friendly. The children like him immediately. When he saw how old the computers the children use were, he offered to repair and update the operating systems. Because of him, the children now have quicker, more reliable computers. Although he is at the Institute for Positive Living through a work study, David was very interested in the program operations and the day to day tasks of communicating program information to the state and the city. He became inspired to find more sources of funding and began reaching out to Chicago and Illinois based charities to request donations for the Institute for Positive Living. David never picks up one task with the intention of abandoning another. Rather, he simply looks for new things to work on and incorporates all activities into his daily work schedule. David's dedication not only to his job but to the Institute for Positive Living itself is inspiring. He has quickly began an integral part of what we do here."
Mete Morris, senior resident advisor, Residence and Greek Life
Nominated by Tyler Harrison
Excerpt: "Mete Morris exhibits leadership and drive within the department of RGL. It is through his leadership that he takes the initiative to propel the department forward in ways of appropriately managing the desk operations in our halls. In housing, the first faces that students will see upon entering their place of dwelling are the Residence Life Community Desk Assistants. Mete supervises these student staff members and holds them accountable to live up to the H.A.W.K. (Helpful, Attentive, Welcoming, and Knowledgeable) community service model that we have in student affairs. By holding his staff accountable, creating procedures that can be passed down to following staff, and ultimately solidifying a model for the SRA to live up to, Mete has fulfilled and surpassed the requirements and expectations of his role. He is appreciated and will be missed when he graduates this spring!
Victoria Smith, financial aid administrator, Office of Financial Aid
Nominated by Tanya Cantanvespi
Excerpt: "I would like to nominate Victoria Smith in recognition for her great contributions to the Office of Financial Aid. Victoria has worked for our office for 4 years and is graduating this semester. She has grown as a student employee and has been exceptional. As a senior student employee she has been instrumental in the training our new student staff. She has gone above and beyond to ensure they are fully prepared to assist us during our upcoming busy season. An example of this is that she has worked additional shifts with our new student staff to work alone side them to instruct them. In addition, she has helped develop our training procedures for the student staff. She exhibits patience, attentiveness, and overall great customer service when serving the student population at our Welcome Desk. Victoria's contributions during the last four years will be greatly missed and difficult to replace. She definitely embodies the spirit of this award.
Distinguished Student Supervisors
Brian Bailey, director, Web Development Services, MC
Nominated by Vinod Thorat
Patrick Fina, assistant director, Campus Life
Nominated by Pratik Bharat Tamhankar
Jean Pombert, assistant professor, Biology
Nominated by Anne Caroline Macarenhas dos Santos
Justine Grant, director, Office Academic Affairs, Stuart School of Business
Nominated by Anonymous
Courtney Budd, director, intramural and recreation, Athletics
Nominated by Parth Lineswala & Tanmaya Bhatt
Other National Student Employment Week Contest Winners
Trivia challenge winner: Syed Muhammad Hasan Rizvi
Office Decoration winner and recipient of gift basket: Undergraduate Admissions
Congratulations, everyone.