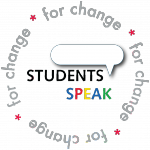 With the approval of the president and provost, your fellow Illinois Tech students are once again looking for your input in discovering how we can improve the quality of students' experiences with various service areas and departments at Illinois Tech. The Students Speak program aligns with the president's and provost's commitment to advancing student satisfaction and the quality of services provided to students.
The project is headed by a committee of students, who are tasked with identifying how the university's services can make your lives as Illinois Tech students better. Their focus is on you, their fellow students, and they want to understand what your needs, concerns, and ideas are surrounding the university. The committee is made up of a diverse team of individuals that come from many different backgrounds, ranging from SGA, the Leadership Academy, the Chicago-Kent College of Law, Camras Scholars, the Greek community, graduate student organizations, and more. They are committed to helping the administration establish benchmarks of performance for student services, identify priorities for improvement, create action plans for change, map progress, and instill accountability for those changes.
Having identified areas within the university services that are important to students and have not been surveyed in at least two years, the survey has been developed to focus on each of those key areas and the committee asks that students provide feedback so that they can gauge what the university is doing right, what needs improvement, etc. The committee will present the results from the Students Speak survey to the president and provost in January and will also give feedback to the departments and service areas included on the survey. Student committee members also submit specific recommendations on how administrators can make the necessary changes needed to increase student satisfaction with their offices' services. These recommendations will stem from the survey findings collected and from additional input from members of various student organizations.
The Students Speak committee is supported by George Langlois, executive director for the Center of Research and Service (part of the Lewis College of Human Sciences) and the Illinois Tech Leadership Academy. Langlois is an industrial/organizational psychologist whose office also conducts the annual faculty survey and provides consultation to numerous high profile clients outside of Illinois Tech. His knowledge and expertise in survey design and analysis serves as a valuable asset to the committee. The Students Speak project is especially important to Langlois, as he received his Ph.D. here at Illinois Tech and the project allows him and his office to give back to the university by helping to make students' experiences here the best that they can be.
The committee has the manpower, the determination, and the contacts, but they need one more crucial piece in order for this survey to make a difference – you. They need as many students as possible to provide feedback on the various student services in order for to really gauge what has been working well for students and what needs improvement. Traditionally, the number of student responses has been close to half the total student body and the goal this year is to get an even larger proportion of students to participate. A couple minutes of your time is all it takes to help drive positive change by ensuring that your voice is heard when the committee presents their findings to the president and provost.
As an added incentive for participating in the survey, there will also be a raffle drawing that any participating students will be entered in, where they will have the chance to win one of several prizes including: $20 gift cards, Illinois Tech apparel, Illinois Tech coffee mugs, and Illinois Tech thermos cups. This is your chance to influence positive change for all Illinois Tech students and to have your opinions heard by the university's leadership and senior administrators. Again, the Students Speak Survey is focused on you, the student and this is your chance to help make a positive, lasting impact for current and future Illinois Tech students.
The survey has been extended one more week, through Monday, November 14 so please take this extra time to complete it. Survey reminders will continue to be sent to students who have not yet completed it, but in case you miss it, you can simply go to https://www.iit.edu/students_speak and complete the survey there, or stop by the kiosk that will be set up on The Bridge in The McCormick Tribune Campus Center (MTCC) during lunch hour.