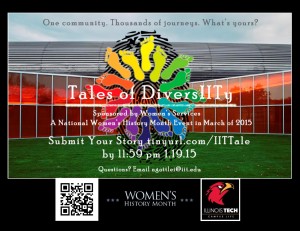 One community. Thousands of journeys. What's yours?
As part of National Women's History Month, "Tales of DiversIITy" is a story-sharing event coming to IIT on March 5, 2015. It will consist of dramatic readings of true stories from IIT/Shimer College/VanderCook College of Music community members, including students, alumni, faculty, and staff, on a variety of emotionally-charged topics. When similar versions of this event were held at high schools and universities nationwide, topics ranged from discrimination to sexuality to abuse to mental disorders. We believe that our community members also have unique stories that come from the heart and can help each of us fully embrace our commitment to diversity and civility as we take the time to listen to them. We highly encourage everyone who has a story, especially the underrepresented members of our community who identify as female, to submit it for sharing.
During the event, the audience will only hear the presenter so the authors can choose whether or not to narrate their own stories to maintain anonymity. A short discussion facilitated by the presenters will follow the presentation, with the ultimate goal being an increased sense of solidarity within the IIT, Shimer, and VanderCook communities. Individuals interested in sharing their stories (ideally 5–10 minutes in length) or participating by narrating and/or facilitating discussion can either fill out the Google form with this link or send their stories to ngottlei@iit.edu by midnight on January 19, 2015.
This event reflects the values expressed in IIT's Diversity Statement and is intended to promote diversity at IIT.