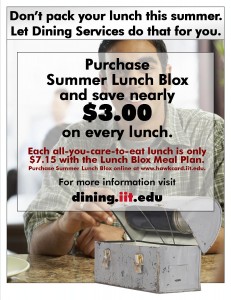 The Commons will open for summer business on Monday, May 21 starting with breakfast. The Commons Summer Lunch Blox are now on sale online from the HawkCard office.
With Summer Lunch Blox you can enjoy fantastic all-you-care-to-eat lunches all summer long for $7.15 per lunch. Purchasing Lunch Blox saves you nearly $3 on every lunch! Blox can be purchased in lots of 10, 25 or 50. You can bring a guest to lunch by using your Lunch Blox.
All Summer Lunch Blox will expire on Friday, August 3.
For more information, contact IIT Dining Services at dining@iit.edu.