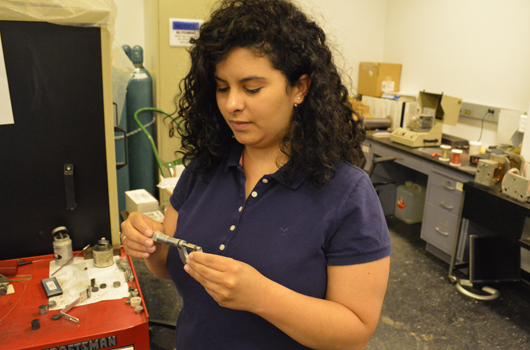 Ana Flavia Capdeville Ramos dos Santos, a Brazilian student who conducted research at Armour College of Engineering as part of the 2015 Engineering Undergraduate Summer Research Immersion Program, was recently published in the International Journal of Refractory Metals and Hard Metals. The manuscript was based on research she conducted in the lab of Leon Shaw, Rowe Family Professor of Materials Science and Engineering at Armour College of Engineering.
The paper, "Investigation of Microstructure and Mechanical Properties at Low and High Temperatures of WC–6wt% Co," was co-authored by Leon Shaw; Satya Emani, senior research associate at Armour College of Engineering; and Zheng Chen of Henan GrandMetals Corporation.
Santos worked with Emani "to investigate the relationships among microstructure, room temperature hardness and toughness, and high temperature compressive stress and strain of a series of WC – 6 wt% Co materials," explains Shaw. "The team's findings will allow researchers and industry to use room temperature properties to predict high temperature properties.
"I learned a lot during the last summer in the lab (at Armour). This work is helping me a lot in the courses that I'm taking at my university in Brazil. I'm sure that this opportunity will help me during my whole career," said Santos.
Shaw echoes Santos' sentiment, "Publishing in a peer-reviewed journal is official recognition in significant contribution of something new to a scientific field. This accomplishment will go a long way in pursuing their career, either in industry or in graduate schools, after they receive B.S. degree."
During the 2015 Engineering Undergraduate Summer Research Immersion Program at Armour, 424 Brazilian undergraduate students in the top two percent at their home institutions were selected and supported by their government to study and conduct research as part of the Brazil Scientific Mobility Program (BSMP). Over the course of 10 weeks, the students performed research at Armour under the guidance of over 70 engineering faculty and researchers.
"The BSMP students gain hands-on experience in how to do research and learn the skills in generating a hypothesis, designing experiments to prove/disprove it, and conducting mental experiments in the mind with great detail before doing experiments physically," states Shaw.
The 2016 Engineering Undergraduate Summer Research Immersion Program is currently underway. Registration for research sections starting during the AT2 session (June 5 through Friday, July 29) is still open. Learn more here.
The full text article can be viewed via ScienceDirect.