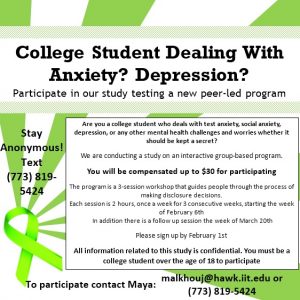 This three-session study is testing whether a new, interactive peer-led program is helpful for students who are dealing with anxiety, social anxiety, depression, or any other mental health challenges, and worry whether it should be kept a secret. Participants will be compensated up to $30.
To sign up, contact Maya at malkhouj@hawk.iit.edu or 773.819.5424.
Sessions are two hours long and will take place once a week for three consecutive weeks starting the week of Monday, February 6. The signup deadline is Wednesday, February 1.
Exact dates and times will be scheduled based on what is convenient for those who wish to participate.