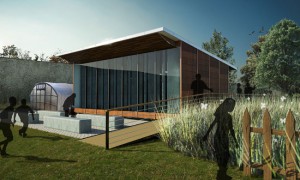 Just a mile and a half south of IIT's Main Campus is an urban nature preserve that has provided a safe and inspiring learning environment for children in need for 15 years. Eden Place Nature Center is located in Fuller Park, one of Chicago's most neglected neighborhoods, adjacent to an industrial train yard and on the site of what once was an illegal dump afflicted with lead contamination.
Today, Eden Place is an award-winning, beautiful and productive space which serves as an education and conservation center to teach families and children about their environment. They host field trips from local schools, educational workshops, community events, and summer youth programs. Despite their continued success, Eden Place has yet to raise enough money to construct a permanent building for all the programs they provide for the community.
Nature Studio is a small (700 sq ft) classroom that has been designed to help Eden Place reinforce its role as a positive and influential force that seeks to improve the lives of South Chicago citizens. The team is now seeking both in-kind and monetary donations for construction materials. To support the Nature Studio project, visit the Nature Studio Kickstarter page.
Our fundraising campaign will only be realized if we meet our $10,000 goal by April 9. We are asking for the support of like-minded individuals who recognize the ability power this project has to positively influence our community and foster an ongoing relationship with IIT and the Fuller Park neighborhood.
Visit iitnaturestudio.com and stay up-to-date with the project.