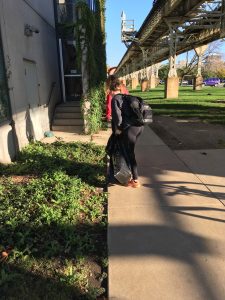 On October 8 the Illinois Tech Swimming and Diving teams took time after preseason practice to help clean the university's campus. Members of both the men's and women's squads filled garbage bags in an effort to give back to the community and bond as a team.
"Our teams took the time to walk across campus in groups and pick up loose garbage," said Head Coach Kyllian Griffin. "We did this to give back to the community in which we are directly connected and have an opportunity to work together and socialize in various ways to help each student-athlete understand the personalities and differences amongst their teammates. It was also a nice change of pace to get out of the pool a bit early and enjoy the outdoors. A hint of non-chlorinated air never hurt anyone!"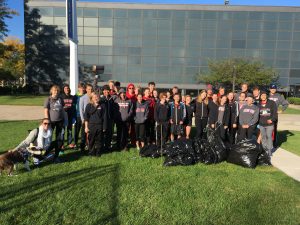 The swimmers and divers' efforts were impressive, filling 17 garbage bags in just 30 minutes. Performing the good deed was an enjoyable experience for the student-athletes.
"Having the mission of picking up trash around campus was very rewarding because I could visibly see the difference," said Kristin Wills. "I would like to do things like this more often to show both my fellow Scarlet Hawks, as well as other schools, how awesome Illinois Tech really is."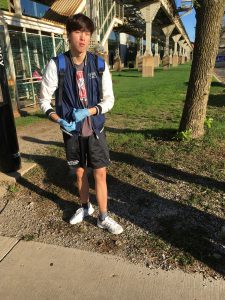 "At first, I was skeptical about the purpose of volunteering to pick up trash, but after accumulating enough garbage (even a muffler) to fill our bag and seeing everybody else commit to filling theirs, I felt the self-reward of doing a good deed," said Julian Escasa. "The experience made me feel good about myself and my teammates. It was heartwarming to be part of a team that is not only dedicated to the sport, but also committed to making Illinois Tech a better place."
Swimming and Diving begins the season on Saturday, October 22 with a 1 p.m. meet at Franklin College at the Keating Sports Center's Ekco Pool.