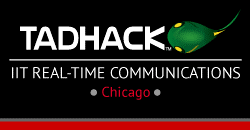 TADHack-mini Chicago will be held on Saturday, October 3 and Sunday, October 4 in the Idea Shop on the IIT Main Campus, right before the IIT Real Time Communications Conference, October 6,7 and 8.
The hackathon will focus on IoT (Internet of Things), Next Generation Emergency Services, Telecom APIs and WebRTC, identity/federation, and speech/video processing.
All are welcome.  Admission is free and there will be eight prizes of $1,000 each given out by the sponsors.
This is a chance to meet with an amazing group of technologists and industry leaders from around the world in a relaxed technology-focused meetup/hackathon that runs over the weekend.
Learn more here: TADHack-mini Chicago Blog
TADHack is for everyone, not just hardcore coders.  Learn more on the blog, TADHack is for everyone