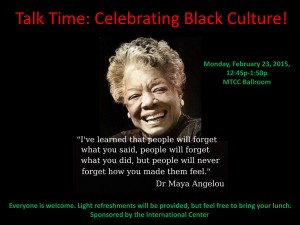 Join the International Center for our monthly Talk Time event on Monday, February 23, 2015, from 12:45-1:50 p.m. in the McCormick Tribune Campus Center (MTCC) Ballroom. This month's topic will be Celebrating Black Culture, where we will discuss how black culture is celebrated both in the United States and abroad, as well as the contributions of black leaders from across the globe.
Everyone is welcome. Light refreshments will be provided, but feel free to bring your lunch.
This event reflects the values expressed in IIT's Diversity Statement and is intended to promote diversity at IIT.