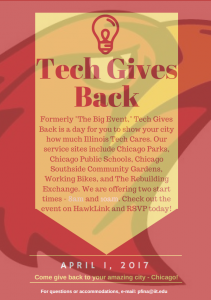 The Office of Campus Life is celebrating its annual day of service, Tech Gives Back (formerly known as The Big Event), on Saturday, April 1.
This year, there are multiple sites (listed below) in need of volunteers. OCL would really like all available students, faculty, and staff to come out and support the cause by helping give back to the community Participants can request to stay paired as a group, or can be placed randomly to make new connections.
OCL is hoping to break previous years' records of 200 participants. Not only is this event for a good cause, it's a great way to meet new people at Illinois Tech and strengthen your existing relationships.
8 a.m. sites:
Chicago Parks District (two locations)
Southside Community Gardens (seven locations)
Working Bikes (one location)
U Farm (on campus location)
10 a.m. site (very limited availability):
The Rebuilding Exchange (one location)