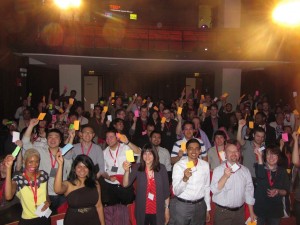 Saturday, April 14 was a rare occasion when the IIT community truly came together for a single event. IIT Provost Alan Cramb, Vice Provost for Student Access, Success and Diversity Initiatives Jerry Doyle, and IIT Stuart Jules F. Knapp Entrepreneurship Center Executive Director Nick Rokop all made their appearances at TEDxIIT 2012. The independently organized TED conference by IIT students took place on IIT's main campus and was broadcast live worldwide.
TED is a nonprofit devoted to Ideas Worth Spreading. It started out (in 1984) as a conference bringing together people from three worlds: Technology, Entertainment, Design. Since then its scope has become even broader. TEDx is a program of local, self-organized events that bring people together to share a TED-like experience. IIT's event is TEDxIIT, where x = independently organized. TEDxIIT is a university event organized by the student organization, working with Amy Lee Segami, an IIT alumna. Segami is a former TEDx Speaker and the founder of TEDxIIT in 2009. This year, she served as the co-organizer and curator of the event.
Ameena Payne and Harshita Iyer, TEDxIIT president and vice president, respectively, were the hostesses. The TEDxIIT 2012 speakers were: Daniya Kamran, a student who runs the Chicago Innovation Chase and director at Eurekatory with projects worldwide; Muhammed Fazeel, student-at-large who is a recipient of Illinois Governor Pat Quinn's "Fifty for the Future" Award; Debbie Vyskocil, Joseph Clair and Marc Hans, a Golden Apple Fellow, are IIT alumni; Tanya Cabera, staff; Tom Tresser, faculty; James Stone, a Harvard graduate and businessman, who is director of IIT Stuart Knapp Entrepreneurship Center; along with Nityananda Pran Das, a spiritual leader, and Onye Ozuzu, the chair of the Department of Dance at Columbia College. Leo Xiangyu Liu, a graduate student from China provided live entertainment. Pre-recorded TEDTalks and live speakers combined to spark deep discussion and connection with the live audience. The speakers went through a rigorous nomination and voting process. They were selected based on their diverse background and their ideas which are gaining momentum.
As the speakers flawlessly weaved great stories taking examples from their professional as well as personal lives, the audience was completely engaged. The talks felt like conversations rather than speeches. Topics covered were: entrepreneurship, creativity, dance as a form of technology, as well as immigration laws and biofeedback mechanisms, among many others.
After Tom Tresser spoke about the idea of a Gift Economy, 75% of the audience stepped up and participated by offering gifts to fellow attendees – from teaching Chinese to a bread machine. The day was buzzing with excitement. Many people commented on James Stone's non-nonsense, straight forward ideas on ending the age of entitlement and Marc Hans' energetic and dynamic closing.
The diverse backgrounds of attendees were an excellent mix of professors, students from different majors as well as alum – hand picked to represent the best of the IIT community. Despite their diversity, they all had one thing in common – a love for inspiration and new ideas.
Many of the attendees and speakers expressed how much they had enjoyed themselves and how much they were already looking forward to TEDxIIT 2013! It was a very rewarding experience for everyone whom attended.
Breakfast, lunch, and all-day refreshments were provided as well as a networking reception. People exchanged business cards, shared the insights, and discussed the ideas learned from the conference.
An Additional highlight was when Ameena Payne, president and student organizer, attended the inaugural TEDxSummit in Doha, Qatar, immediately after TEDxIIT. Representing IIT, she was invited to attend this a week-long event exclusively for TEDx organizers. Hosted by the Doha Film Institute, there were over 600 TEDx organizers from over 90 countries. Payne was able to share her TEDxIIT experience while attending workshops, talks, and cultural activities.
An event of this magnitude was accomplished with a team of talented and dedicated students including, but not limited to, the committee chairs: Phillip Cano, Samantha Gallo, Taylor Harvey, Harshita Iyer, Ryan Le, Luling Li, Eduardo Ojeda, and Ameena Payne. Some of which will be graduating.
Watch a 5 min behind the scene video below, and view photos from the event here. More videos by the speaker will be posted in the coming weeks.
TEDxIIT 2013 will only be better if you are part of it. To stay in touch for upcoming TEDxIIT events, sign up for the mailing list at www.tedxiit.com