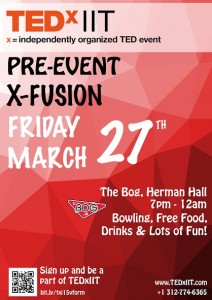 Join TEDxIIT on Friday, March 27, from 7 p.m.-12 a.m. at The Bog in Hermann Hall for a night of excitement, learning, and fun.
Find out more about this year's theme – X-Fusion, interact with previous years' speakers, and enjoy a night of bowling, watching TED videos and much more.
The event is open to all students and TEDxIIT volunteers. There will be free food and giveaways.