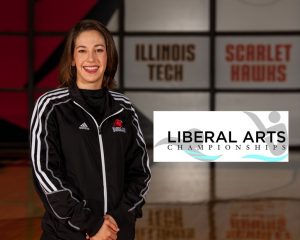 Illinois Tech's Brigitte Temple was named the Player of the Week for women's swimming by the Liberal Arts Conference for the week of October 22–28. This is the first weekly award for Temple this season.
Temple led Illinois Tech to a split between Beloit and Wisconsin Whitewater on October 28. She took first place in the 200 yard backstroke with a time of 2:20.24. The senior also placed first in the 200 yard breaststroke, recording a time of 2:31.22.
The Illinois Tech swimming and diving team will return to action on Saturday, November 4 when the Scarlet Hawks travel to Loras to take on the Duhawks at 1 p.m.