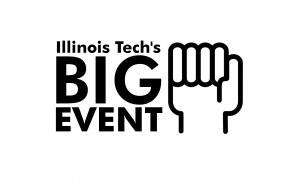 Every year, the Office of Campus Life engages students, staff, faculty, and alumni to join us for one big day of service. A tradition at colleges and universities across the country, The Big Event is a day for all members of the university to come together and make a difference in our communities. The date for the 2016 Big Event for Illinois Tech, VanderCook College of Music, Shimer College, and Chicago-Kent College of Law is Saturday, April 16.
We are reaching out to the non-profits and community organizations we have worked with in the past to begin planning and coordinating specific projects for The Big Event. However, we need your help. If you are involved in an organization, or are familiar with an organization that you would like us to reach out to, email the name of the organization to Patrick Fina, at pfina@iit.edu.
We're excited for an incredible Big Event, and hope you can help us make it our most successful yet.