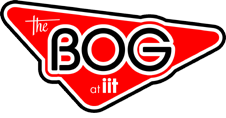 Starting Thursday, February 9 The Bog will be open from 11 am – 5 pm, Monday-Thursday as a commuter lounge in addition to its regular schedule (Thursday-Friday, 5 pm – 1 am). Commuter student needs were the primary motivation for this initiative but all students are welcome and encouraged to take advantage of these new hours.
The idea to use The Bog as a lounge originated from an SGA VoteBox post and is one of ten completed VoteBox projects since the site launched last semester. Undergraduate student Piyush Sinha pointed out that "there aren't too many places on campus where you can relax until your next class" and went on to ask "why not turn The Bog into a lounge for students during the weekdays? It has everything you would need".
Campus and Conference Centers Director Kelly Schaefer noticed the post on VoteBox and responded enthusiastically to the suggestion. Schaefer outlined the next steps and reached out to the Student Government Association to gauge the broader student interest and begin implementation with the help of the rest of the CCC team.
The Bog is now set to begin its lounge hours on Thursday, February 9 with a grand opening celebration scheduled on Thursday, February 23. Amenities of the lounge will include a refrigerator and microwave for public use and lockers available for rent. Furthermore, student organizations can use the Bog Programming Fund to host events during these new hours. Student organizations can contact Vince Poczekaj, Union Board's Vice President of The Bog, at ubBOGvp@gmail.com for more information.
As with the current Bog hours, pool, ping-pong, video games, and other items available at the recreation desk are free. The exception is that during the 11 am – 5 pm, Monday – Thursday "lounge hours," the bar and kitchen area as well as the bowling lanes will be unavailable. Overall, this is a trial program but a great step in the right direction for increasing campus vibrancy and amenities.