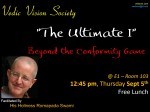 The Vedic Vision Society will host a discussion on "The Ultimate I" – Beyond The Conformity Game at 12:45 pm on Thursday, September 5 in Engineering 1 in Room 103. A free vegetarian lunch will be served after the discussion concludes.
To learn more about the Vedic Vision Society, visit here or email. Vedic Vision Society is also on Facebook.
This event reflects the values expressed in IIT's Diversity Statement and is intended to promote diversity at IIT.