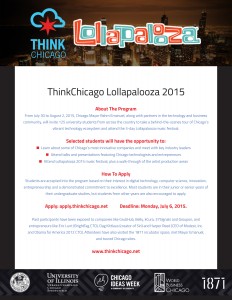 What is ThinkChicago: Lollapalooza?
From Thursday, July 30 through Sunday, August 2, 2015, Chicago Mayor Rahm Emanuel, along with the University of Illinois, Chicago Ideas Week, World Business Chicago, 1871, and Lollapalooza will invite 125 university students from across the country to take a behind-the-scenes tour of Chicago's vibrant technology ecosystem and attend the three-day Lollapalooza music festival.
How to Apply
Students are accepted into the program based on their interest in digital technology, computer science, innovation, entrepreneurship and a demonstrated commitment to excellence. Most students are in their junior or senior year of their undergraduate studies, but students from other years are also encouraged to apply. The program is free and there is no fee to apply.
The deadline for student applications is Monday, July 6
Applications can be completed here
Student Benefits
Learn about some of Chicago's most innovative companies and meet with key industry leaders
Attend talks and presentations featuring Chicago technologists and entrepreneurs
Attend Lollapalooza 2015 music festival, plus a walk-through of the artist production areas
For more information, contact Stephanie Larson at 217.265.5456.