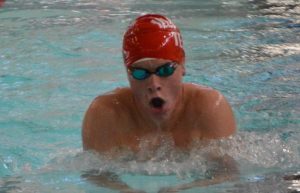 The Illinois Tech Men's Swimming and Diving team wrapped up the Liberal Arts Conference Championships on February 11 at Principia College. Illinois Tech placed third, the team's best finish since 2013.
Saturday Highlights
It was a strong victory for Karsen Diepholz in the 1650 Yard Freestyle, as he won the event by over nine seconds with a school record time of 16:02.14 (he also set a new 1000 Yard Freestyle school record of 9:44.64 during the swim). Miles Thompson (fourth place, 16:34.60) and Zachary Bonson (seventh place, 16:51.88) also placed in the top ten. 
Brendan Howley also won an event, capturing first place in the 200 Yard Breaststroke (2:02.37) with a new school record time.
Jay Korhonen (sixth place, 1:58.89), Julian Escasa (seventh place, 2:00.28), and Luke Workman (11th place, 2:02.96) all reached the finals in the 200 Yard Butterfly.
In the 100 Yard Freestyle, Escasa tied for seventh with a time of 47.85s.
The 400 Yard Freestyle Relay team of Escasa, Workman, Diepholz, and Howley placed third with a time of 3:11.05.
David Polzin placed fifth in the 1 Meter Diving with a score of 308.75.
Ryan Lakner (14th place, 2:03.23), Benjamin Cohen (15th place, 2:07.12), and John Wolniak (17th place, 2:07.18) all reached the finals in the 200 Yard Backstroke.
Final Team Scores
Franklin 750
Nebraska Wesleyan 548
Illinois Tech 463.5
Luther 433.5
Coe 335
Loras 311
Morningside 274
Principia 180
Simpson 132