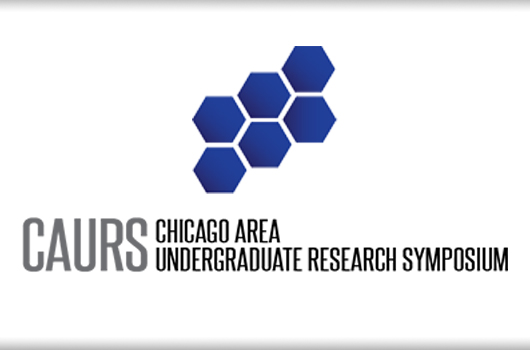 Three female engineering undergraduate students were honored at the 2017 Chicago Area Undergraduate Research Symposium (CAURS) for poster presentations detailing the results of their research. The symposium is one of the largest annual undergraduate research conferences in the country, bringing together hundreds of undergraduate students in the greater Chicago area from all academic disciplines to present their research.
The Armour College of Engineering students who were awarded are Mary Hawgood (MSE '17), who was awarded the Outstanding Poster Presentation honor in Chemistry; Sarah Hamilton (ME 3rd Year), who was given the Outstanding Poster Presentation honor for Physics, Environmental & Geophysical Sciences; and Merjem Mededovic (BME 4th Year), who was selected to receive the Honorable Mention Poster Presentation in Engineering, Math & Computer Science.
Both Hawgood and Mededovic conducted their research as part of Armour R&D, a Distinctive Education initiative that offers undergraduate engineering students the opportunity to gain hands-on research and development experience in the lab of a faculty mentor.
Hawgood and Philip Nash, Charles and Lee Finkl Professor of Metallurgical and Materials Engineering and director of the Thermal Processing Technology Center, worked for two semesters with the aim to confirm the predicted existence of materials with unique magnetic and thermoelectric properties called Heusler compounds. These materials could lead to electronics that convert waste heat into energy the devices can use.
Mededovic worked with Georgia Papavasiliou, associate professor of biomedical engineering, for two semesters in the program to investigate how to improve hydrogel scaffolds used as a structure to grow engineered tissues. Their work could lead to a scaffold design with an improved ability to grow tissues.