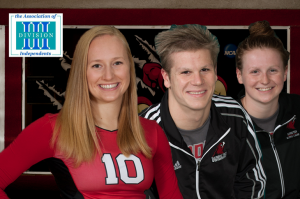 The Association of Division III Independents has released its Student Athletes of the Month for October. Three Illinois Tech student-athletes have been honored: Irena Grauzinis of Women's Volleyball, Brendan Howley of Men's Swimming and Diving, and Katherine Lydon of Women's Swimming and Diving.
Grauzinis put together one of the best months of her decorated career in October. The senior finished with 261 kills, a .163 hitting percentage and seven double-doubles as the Scarlet Hawks went 8-6 during the month. The three-time Player of the Week during the month also added 134 digs, 26 aces and 11 blocks and finished with 20 or more kills in six matches.
Howley competed in just one meet in October, but it was a strong performance. In what was his first meet as a Scarlet Hawk, Howley won both the 50 Yard Freestyle (22.41s) and 100 Yard Breaststroke (58.73s) events on October 29 at Beloit, winning the 100 Yard Breaststroke by almost 10 seconds. The junior transfer was also a part of the 200 Yard Medley Relay team that took home first place with a time of 1:38.09.
Lydon was also impressive at Beloit. She won the 200 Yard Freestyle by more than 20 seconds with a time of 1:59.94. She was also the top swimmer in the 500 Yard Freestyle at 5:22.60. In addition, Lydon swam on the winning 200 Yard Freestyle Relay team, which finished with a time of 1:47.33. This was Lydon's first collegiate meet.