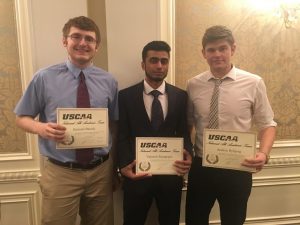 At the United States Collegiate Athletic Association National Championships Basketball Banquet on February 28, three Illinois Tech Men's Basketball players received Academic All-American honors. Seniors Vignesh Rajagopal, Samuel Rarick, and Anders Bybjerg were all recognized by the USCAA for the second consecutive season.
Student-athletes must be sophomores, juniors, or seniors at four-year institutions or sophomores at two-year institutions to be considered for the USCAA's All-Academic distinction. Overall grade point averages must be at least a 3.5 (on a four-point system) or better.
The #4 Scarlet Hawks begin USCAA Tournament play on Wednesday, March 1 with a 3 p.m. CT contest against #5 Florida College in Uniontown, Pennsylvania, at Penn State-Fayette. The USCAA is set to provide live stats and a live broadcast.