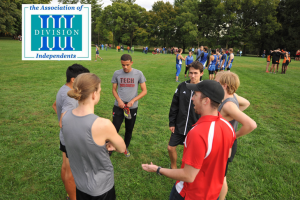 The Illinois Tech Men's Cross Country team received honors from the Association of Division III Independents on November 17. Three runners were named to All-Independent teams, while Keith Burke was named Co-Coach of the Year.
Orlando Cardenas closes out an amazing freshman season with an All-Independent First Team honor. The California native led the Hawks in all seven meets he competed in, earning three Player of the Week awards (two from AD3I, one from the USCAA) and the AD3I Player of the Month award for September. Cardenas' top meet came at the start of the season, when he recorded a 27:09.8 8k time on September 9 at the Aurora University Spartan Classic. He was a consistent runner all season, as all of his times came in between 27:09 and 27:31. His season culminated with a strong finish at the USCAA Championships on November 7, as his second fastest time of the season (27:12.0) earned him a 17th place finish.
Cole Dammeier earned All-Independent Second Team honors. The sophomore followed Cardenas in all of his meets and led Illinois Tech in the three-mile race on November 3 at North Central College (15:54.5). His top 8k time of the year came at the Benedictine University Eagle Invitational on October 7 (27:22.4). Like Cardenas, he was also strong to wrap-up 2016, placing 25th at the USCAA Championships on November 7 with a time of 27:33.0.
Jake Tracey was also honored by AD3I, earning All-Independent Third Team honors. The freshman saved his best for the USCAA Championships on November 7, finishing with a time of 29:20.0. He also had a strong meet on October 1, recording a time of 29:24.1 at the Wartburg College Dan Huston Invite.
With the success of his young roster, Head Coach Keith Burke was named Co-Coach of the Year for AD3I Men's Cross Country, sharing the award with SUNY-Canton's John Kennedy. In Burke's first season at the helm, the Scarlet Hawks finished 12th at the USCAA Championships, a one-place improvement from 2015. Illinois Tech achieved this despite having all freshman and sophomores on its roster.