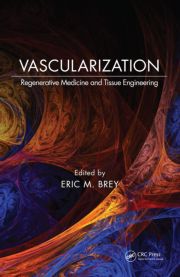 Eric Brey, professor of biomedical engineering at Armour College of Engineering, served as co-author and editor for the book, Vascularization: Regenerative Medicine and Tissue Engineering. Several chapters have also been co-authored by Armour College Faculty including Ali Cinar, director of The Engineering Center for Diabetes Research and Education and professor of biomedical, chemical, and biological engineering, and Georgia Papavasiliou, assistant professor of biomedical engineering. Armour College alumnus Micheal V. Turturro is also credited as a co-author for work he completed as a Ph.D. candidate and graduate research assistant at Armour.
The book is designed specifically for researchers in tissue engineering and regenerative medicine (TERM) fields. It provides a broad overview of vascularization in TERM applications. The text summarizes research in several areas, and includes contributions from leading experts in the field. It defines the difficulties associated with multicellular processes in vascularization and cell-source issues. It presents advanced biomaterial design strategies for control of vascular network formation and in silico models designed to provide insight not possible in experimental systems. It also examines imaging methods that are critical to understanding vascularization in engineered tissues, and addresses vascularization issues within the context of specific tissue applications.
The material contains research and science on the process of vessel assembly with an emphasis on methods for controlling the process for therapeutic applications. It describes the tissue and organ-specific aspects of vascularization in regenerative medicine, and refers to areas such as bone tissue engineering, vascularization of encapsulated cells, adipose tissue, bone and muscle engineering. It also provides a mechanistic understanding of the process and presentation of experimental and computational approaches that facilitate the study of vascular assembly, and includes enabling technologies such as nanotechnology, drug delivery, stem cells, microfluidics, and biomaterial design that are optimized for supporting the formation of extensive vascular networks in regenerative medicine.
The book serves as a guide for researchers developing new methods for modulating vessel assembly, this text can also be used by senior undergraduate and graduate students taking courses focused on TERM. It will be available for purchase on Friday, August 8, 2014 through CRC Press and Amazon.