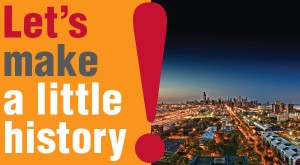 If you're on campus today, Friday, February 8, join us in the MTCC and The Bog for a party like no other!
Can't make it to the party? Then join us online live!
Join alumni around the world to watch the live stream of the event at 3 p.m. (CST) and take part in a virtual scavenger hunt. Answer three questions for the chance to win an IIT swag bag, American Express gift card, or an iPad mini!
All day on February 8, be part of our social media blitz by posting about IIT and the campaign—use #iitinnovates and help us go viral!
Tell us where you are and what you're doing. Beginning February 8, pin yourself on our world map and tell alumni, students, and the IIT community your memories of IIT, what you've been up to, or how you're fueling innovation.