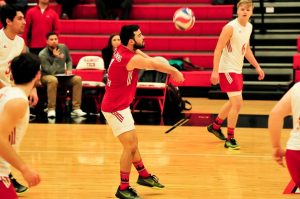 The Illinois Tech Men's Volleyball team opened the 2018 season on January 12 at UC Santa Cruz's Slug Slam. Taking on a tough Stevenson University team, the Scarlet Hawks were defeated in straight sets.
Scores
Stevenson 3, Illinois Tech 0 (25-23, 25-22, 15-25)
How it Happened
Stevenson jumped out to an 8-2 lead in the first set, but the young and resilient Scarlet Hawks came right back and quickly cut the lead to three at 11-8. The Hawks used a .333 hit percentage in the set to pull to within one at 24-23, but a Mustangs kill ended the set.
In set two, things were even early on until the Scarlet Hawks took a substantial lead and 12-6. Illinois Tech was able to hold the lead for a while, but the Mustangs used a late 5-1 run to take a 21-20 lead. Stevenson did not relinquish the advantage and went up 2-0.
Stevenson continued its momentum in the third set, scoring the first three points and never looking back en route to a 25-15 win.
Scarlet Hawk Standouts
Stats to Know
The Scarlet Hawks were outhit .237% to .160%.
Stevenson had nine aces compared to Illinois Tech's five.
Blocks were even at five.