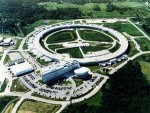 IIT's Net Impact invites you on a tour of Argonne National Laboratory – one of the U.S. Department of Energy's largest national laboratories for scientific and engineering research. Research is primarily geared towards solving energy and environmental problems.
Date: Monday November 05, 2012
Time: 9:45 am – 3:30 pm, departs IIT's Downtown Campus (565 W Adams) at 9 am.
Areas to be explored:
Advanced renewable energy research including solar energy
Climate change modeling
Optimizing transportation modes
Battery storage research
The tour is free but lunch will be paid for individually on-site.
Please RSVP here by Monday October 22, 2012.