Interested in seeing the renovation of the 16th floor of IIT Tower? Tours will take place on Wednesday, October 17 or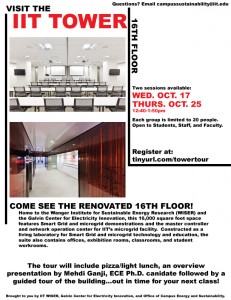 Thursday, October 25 from 12:40–1:50 pm. Register to attend here.
Home to the Wanger Institute for Sustainable Energy Research (WISER) and Robert W. Galvin Center for Electricity Innovation, this 16,000 square foot space features Smart Grid and microgrid demonstrations and the master controller and network operation center for IIT's microgrid facility.
The tour will include pizza/light lunch and an overview presentation by Mehdi Ganji, ECE Ph.D. candidate, followed by a guided tour of the building. Students will be out in time for classes at 1:50 pm.
Staff, faculty, and students are all welcome to attend. Each tour is limited to 20 people, so register today!
Questions?  Contact campussustainability@iit.edu.