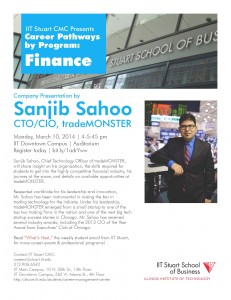 IIT Stuart Career Management Center welcomes Sanjib Sahoo, Chief Technology Officer and Chief Information Officer at tradeMONSTER, as a guest speaker in Stuart's Career Pathways by Program series from 4-5:45 pm on Monday, March 10, 2014 at the Downtown Campus Auditorium.
Under Sahoo's leadership, tradeMONSTER has been ranked as one of the top two online trading firms. He recently received the 2013 CIO of the Year Award from Executives' Club of Chicago and was the finalist for ITA 2013 Technologist of the Year. He will be discussing internship and full-time career opportunities with students.
Learn more and register today.