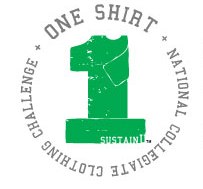 IIT is participating in the 2012 oneShirt Challenge, the nation's largest collegiate clothing drive. OneShirt challenges college students everywhere to donate used/unwanted clothing, shoes, coats, etc to charities instead of throwing them away. The goal? Help those less fortunate while reducing waste in landfills! The campus donating the most clothing (determined by weight) will win cool T-shirts and bragging rights.
Collected clothing will be donated to God's Closet, a charity operated by First Trinity Lutheran Church in Bridgeport. The mission of God's Closet is to both provide resources for those in need in a life-giving way, and a "green" venue for the redistribution and re-purposing of clothing and other goods.
Donate clothes from April 1 – 21, at any of these locations:
MSV center lounge
SSV front desks
Gunsaulus Hall lounge
Office of Campus Life
IIT Tower security desk (1st floor), 10 West 35th Street
This challenge has been combined with the traditional Trash to Treasure event that occurs ever year in the residence halls. It is being overseen by the Service Learning and Sustainability theme communities, with the support of the Office of Spiritual Life and Service Learning and the Office of Sustainability.
Questions? Contact Lynne Meyer, Director of the Office of Spiritual Life and Service Learning, at lmeyer2@iit.edu or 312-567-3160.