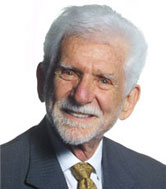 The National Academy of Engineering (NAE) will honor IIT alumnus and Life Trustee Martin Cooper with the Charles Stark Draper Prize, which annually recognizes engineers whose accomplishments have significantly benefited society. Considered the Nobel Prize of engineering, the prize includes a $500,000 award.  Fellow mobile phone pioneers Joel Engel, Richard Frenkiel, Thomas Haug and Yoshihisa Okumura will also be awarded the Draper Prize at a February 19 ceremony in Washington.
The idea for cellular phones grew out of exploration that began in the 1940s at AT&T and Bell Labs. Engel and Frenkiel of Bell Labs were among the earliest engineers to develop a plan for a network of low-power transmitters that came to be known as cells. Later improvements that enabled mobile users to make and maintain calls while traveling over wider areas came from the work of Okumura of Nippon Telegraph and Telephone Basic Research Laboratories in Japan and Haug of Nordic Mobile Telephony.
Cooper, who led Motorola's mobile phone research, made the first call on a hand-held cell phone in 1973.
The Charles Stark Draper Prize was established and endowed by Draper Laboratory in 1988 in tribute to its founder, Charles Stark Draper, who pioneered inertial navigation. It honors those who have contributed to the advancement of engineering and to improve public understanding of the importance of engineering and technology.
Draper Laboratory, which celebrates its 80th anniversary in 2013, is a not-for-profit, engineering research and development organization dedicated to solving critical national problems in national security, space systems, biomedical systems and energy. Core capabilities include guidance, navigation and control; miniature low-power systems; highly reliable complex systems; information and decision systems; autonomous systems; biomedical and chemical systems; and secure networks and communications.