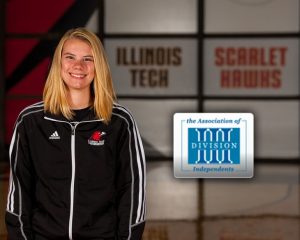 The Illinois Tech Women's Swimming and Diving team competed in just one meet in December, but the team still managed to earn recognition. Senior Briana Tyler has been named the Association of Division III Independents' Student-Athlete of the Month for women's swimming and diving.
At the Ted Erikson Invitational on December 2, Tyler finished first out of eight swimmers in the 100-Yard Butterfly with a time of 1:03.53. She also won the 200-Yard Butterfly with a time of 2:20.92 and finished second in the 200-Yard Medley Relay with a time of 1:56.67. Her strong swims helped the Scarlet Hawks earn first place in the meet.
The Scarlet Hawks are back in action on Saturday, January 13 at home, hosting Lawrence University at 1 p.m. Live video will be available for the meet.